TABITHA, 39 WINEVA AVE., THE BEACHES, TORONTO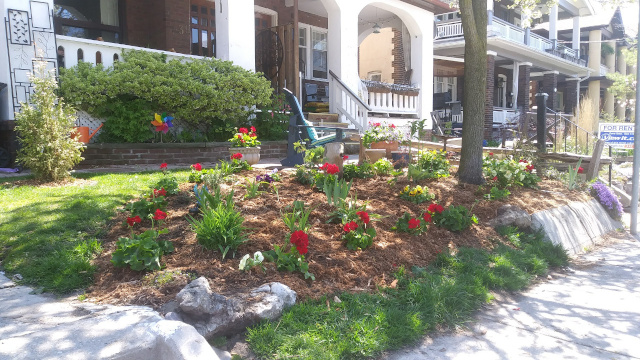 My family and I moved into an apartment in a duplex in The Beach area of Toronto — a lovely place but no one had taken much interest in the front yard or garden for some time.
And, whether out of habit or perhaps as a unanimous statement of disparagement, the local dogs were all using it as a toilet.
I have two young girls — my vision of them running through a sprinkler on the front lawn? No. 
I got the go-ahead from our landlord to dig most of it up and then did myself the great favour of enlisting Randall Keast. The week before he arrived we talked about my plans (I didn't have one). I told him how many bags of mulch and soil I had already bought. He was gracious enough not to laugh and told me to double it. He arrived with a shovel, bins full of plants and an additional tub of mulch, for good measure. I would quickly learn that there is never enough mulch. 
We worked for the day and drank a lot of coffee. We discovered that under the patchy grass and dog donations there was some wonderful soil. We problem-solved on the fly. We met my neighbours — yes, during the COVID crisis. There are a few things guaranteed to draw the neighbours out and, apparently, ripping up sod and putting in a garden is one of them. 
Since that first day, Randall has returned with more plants and with more advice shared over yet more cups of coffee. And now there is a garden. In the midst of a shutdown this little patch of grass has come to life with colour and texture and definition. Yesterday, a random cyclist shouted, "Beautiful garden!" as he whizzed past on his bike.
My family has met people on our street that we might never have gotten a reason to speak with, otherwise. Because of this garden, quite suddenly we're part of the community — and during a time of social distancing, no less.
And bringing the magic in his big red truck was Randall Keast. A gentle giant. A person of great kindness, of genuine warmth, who is a gardener in his very bones.
He knows plants. He knows soil. He understands what both need in order to become their best. He understands communion with the earth, and the great bounty that this relationship brings between people. He is a teacher first and humble enough to know that he'll always be a student whether it's in the classroom or the outdoors.
He helped make this new place our home and as I watered the garden with our girls and raised a hand in greeting to a neighbour I felt such gratitude to have benefited from his expertise.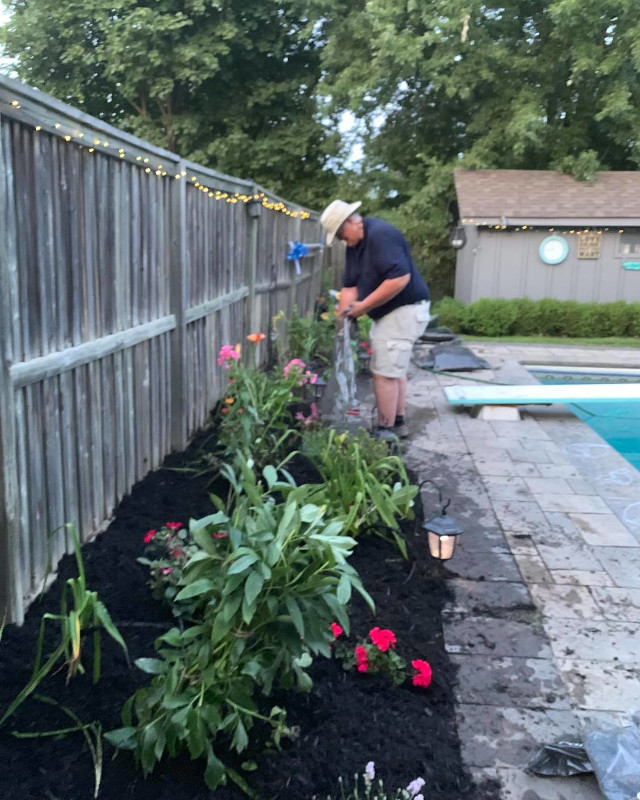 I recently had my front and back yard landscaped by the amazing talented garden guru Randall Keast . He performed an amazing transformation of my entire yard. He exceeded my expectations with regards to the overall finished result. His professionalism, horticultural education and overall knowledge of landscape design immediately set him apart from other landscaping companies. Randall's design and vision for my yard created a well- planned layout of colours and textures showcasing so many different shrubs and flowers. He also suggested a under ground water hose for my back yard, which now provides me with the convenience of not having to water my beautiful tranquil space which I get to enjoy even more.
My newly landscaped yard is now a spectacular showpiece and Randall has added great value to my home. I've have had many comments from neighbours and friends, as they are amazed at the transformation. I would recommend Gardening Defined by Randall Keast to anyone who wants an attractive and well-designed yard.
Chantalle Chasse, BROKER
Cell:416-540-8190
REMAX Real Estate Centre INC. Brokerage office: 905-878-7777
chantalle@remaxcentre.ca
www.chantallechasse.com
"The House Whisperer"